Bridal Image Consultation
A bridal consultation is a perfect way to ensure that you look stunning on your wedding day. From traditional weddings to more informal occasions at home or abroad, I will offer styling advice on everything from:
• An in-depth colour analysis, with a special focus on the right shades for your wedding day.
• Finding the perfect dress to suit your colouring, shape, style personality and type of wedding.
• Suggestions for veils, tiaras, headdresses and jewellery to suit your scale and proportions.
• Recommended hairstyles to suit your face shape.
• A full make-up application in the colours that suit you best.
BRIDAL IMAGE CONSULTATION
£200
Duration: approximately 3 hours
Includes: Personalised 42 colour swatch wallet, with a focus on whites, creams and accent colours for your wedding. Personalised Bridal Style Guide, full of hints and tips to make shopping for your wedding dress and accessories a breeze.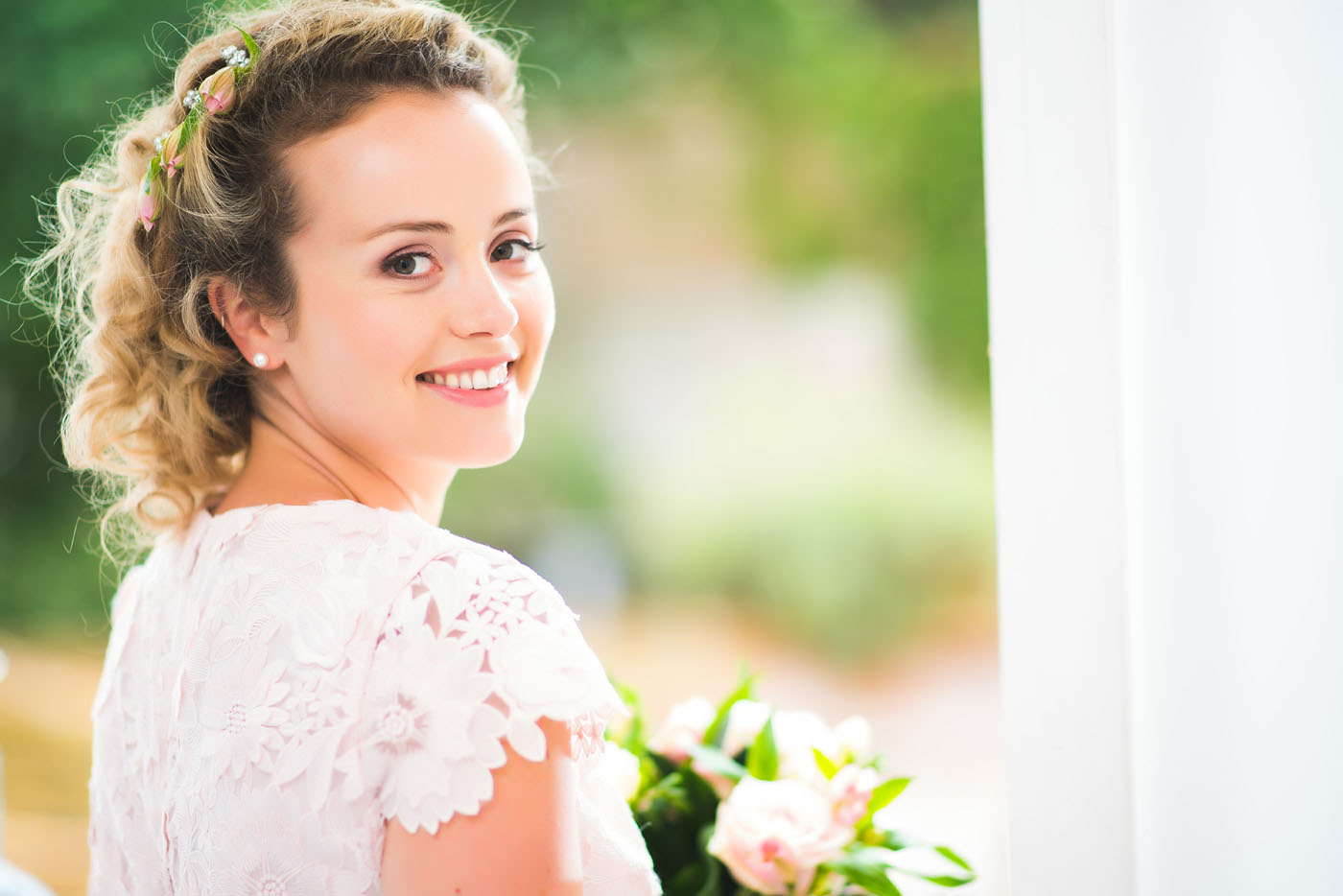 Groom's Image Consultation
If the groom needs a gentle steer in the right sartorial direction, I can help with this too. A consultation can help in ensuring that your wedding style and colour scheme is carried through to the groom and compliments him too. Best of all, the tips he'll learn apply to his everyday wardrobe as well! A groom's image consultation will show:
• Which shades suit his colouring and complement him best.
• The best colours to wear on his big day to complement both him and his bride.
• How to combine colours and patterns for both formal and casual wear.
• The best options for jackets, shirts and trousers for his build.
• What to look out for to get the right fit, every time.
• How he can develop a co-ordinated wardrobe to ensure that he gets value for money out of his clothing investments.
• The best way to wear his hair to suit his face shape and advice on accessories and eyewear to give the all-important finishing touches.
GROOM'S  IMAGE CONSULTATION
£200
Duration: approximately 3 hours
Colour Analysis for Bridesmaids
On your wedding day, you'll want to make sure you are surrounded by colour that makes you look glowing and radiant but you may also want to check that your chosen colours also flatter your bridesmaids so that there are no big "clashes" of colour on your wedding photographs.  In a group colour analysis for your bridesmaids, we can also discuss floral colour combinations and how to tie in the men's colours.  Each bridesmaid will also get to try out make-up shades suitable for the day.
COLOUR ANALYSIS FOR BRIDESMAIDS
£75
Per bridesmaid
Includes: colour swatch wallet containing 30 colours
You'll want to feel like a million dollars on your big day and I'm here to help by creating a natural, radiant look.
With the help of pictures, we'll discuss the style of your wedding and how you want your make-up to look. Not every bride wants to look natural and not every bride wants heavy make-up either. As a stylist and make-up artist, I'll create the perfect look to complement you, your dress and your overall style.
MAKE-UP TRIAL
£50
Per person
Have one less worry and leave the wedding day make-up to a professional make-up artist. Relax and enjoy some pampering as I use the latest bridal make-up techniques to ensure that your make-up suits you best and lasts throughout the day. I am available to travel to your home or venue to make your wedding day even less stressful without trips to the salon.
I can also apply your bridesmaids and mothers make-up to ensure they look coordinated with you and feel happy and confident with their make-up look.
For more information about bridal make-up, please go to www.bethpricemakeup.co.uk
WEDDING DAY MAKE-UP
£100
For bride
£50
Per person for the bridal party
Personal Shopping for Weddings
No idea where to start when it comes to choosing your dress? Treat yourself to the luxury of having me advise and help you to choose the best dress to suit your colouring, body shape and personality with an honest and unbiased opinion.
This service is perfect if you are having no luck finding your outfit on your own – regardless if you are the bride, mother-of-the-bride/groom or a member of the wedding party. I will ensure you look your best.
PERSONAL SHOPPING FOR WEDDINGS
£50
Per hour
"Thank you for helping me choose such a stunning wedding dress. When I walked into the room the groom said 'oh wow!'"
EMMA
Frequently Asked Questions
Where are you based?
I'm based in Newport, South Wales but have clients from all over the UK and further afield. I'm easy to find and there's parking at my home studio. I'll send you the address and directions when you book your consultation.
Could you do the consultation at my home/office?
Consultations usually take place at my home studio as the natural light is good and everything is set up but I can come to you if you need me to. There would be an additional charge for travelling time and expenses. There is no extra charge for travelling to wardrobe edits or personal shopping sessions.