How to find the perfect holiday swimwear for your shape
How many women don't even feel confident when fully clothed but every now and then, they take a holiday, which is supposed to be relaxing but they often feel bad about their bodies on the beach or by the pool. If you'd like to know which swimwear suits you best, read on!
PEARS
If you're bigger on the bottom half than the top half and your hips are wider than your shoulders, you're pear-shaped. You need to avoid halternecks which will bring the shoulder-line in. Instead, opt for strapless or wide straps and more detail such as lighter, brighter colours and pattern on your top half. A bikini or tankini is often easier to get to fit as you're not the same size top and bottom. These are perfect options for you:
J By Jasper Conran Block Colour Swimsuit, Bravissimo Madeira Swimsuit, Debenhams Frost French Bandana print swimsuit, Red Herring Coral frill bikini,
STRAWBERRIES
If you have wide shoulders, a full bust and narrow hips, you're a strawberry shaped. You usually wear a size or two bigger on the top half. Halternecks will work well for you and swimwear with good support. Add detail such as tie sides, frills, stripes on the bottom half to balance the width at the top. Keep the top plainer. Again a two piece will be easier for fit. Here are some good options:
Debenhams Beach Collection tummy control skirt swimsuit, Debenhams Floral tankini, Bravissimo Sorrento black frill bikini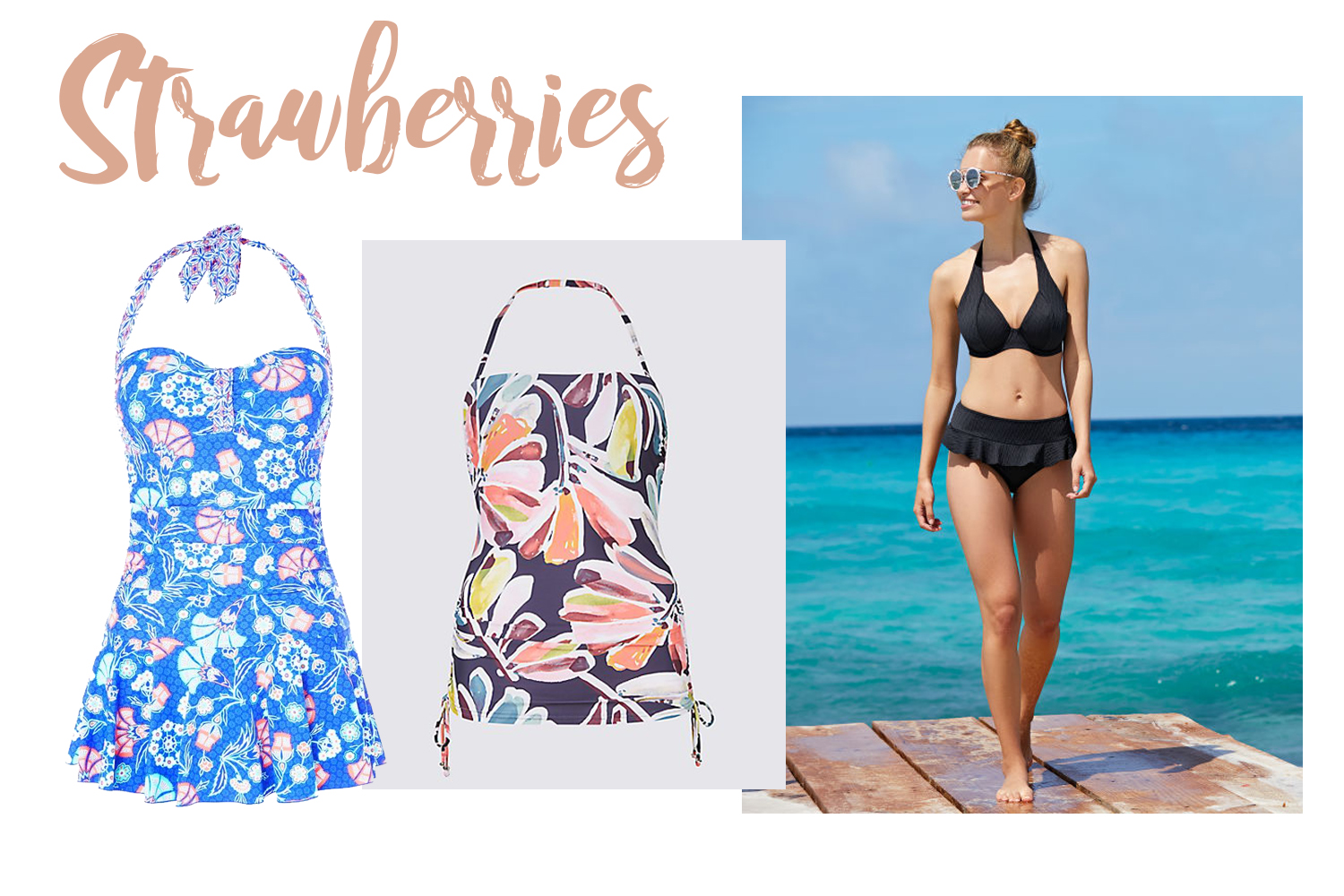 RECTANGLES
The rectangles are the same size top and bottom with little defined waist so a bikini, tankini or swimsuit will work. Geometric patterns are good and as you have nice shoulders, you can wear a halter neck. Hip detail and boy-short styles can be flattering. Below are some great options for you!
Boden Maratea twist red swimsuit, Marks and Spencers secret slimming swimsuit, Marks and Spencers stripe swimsuit.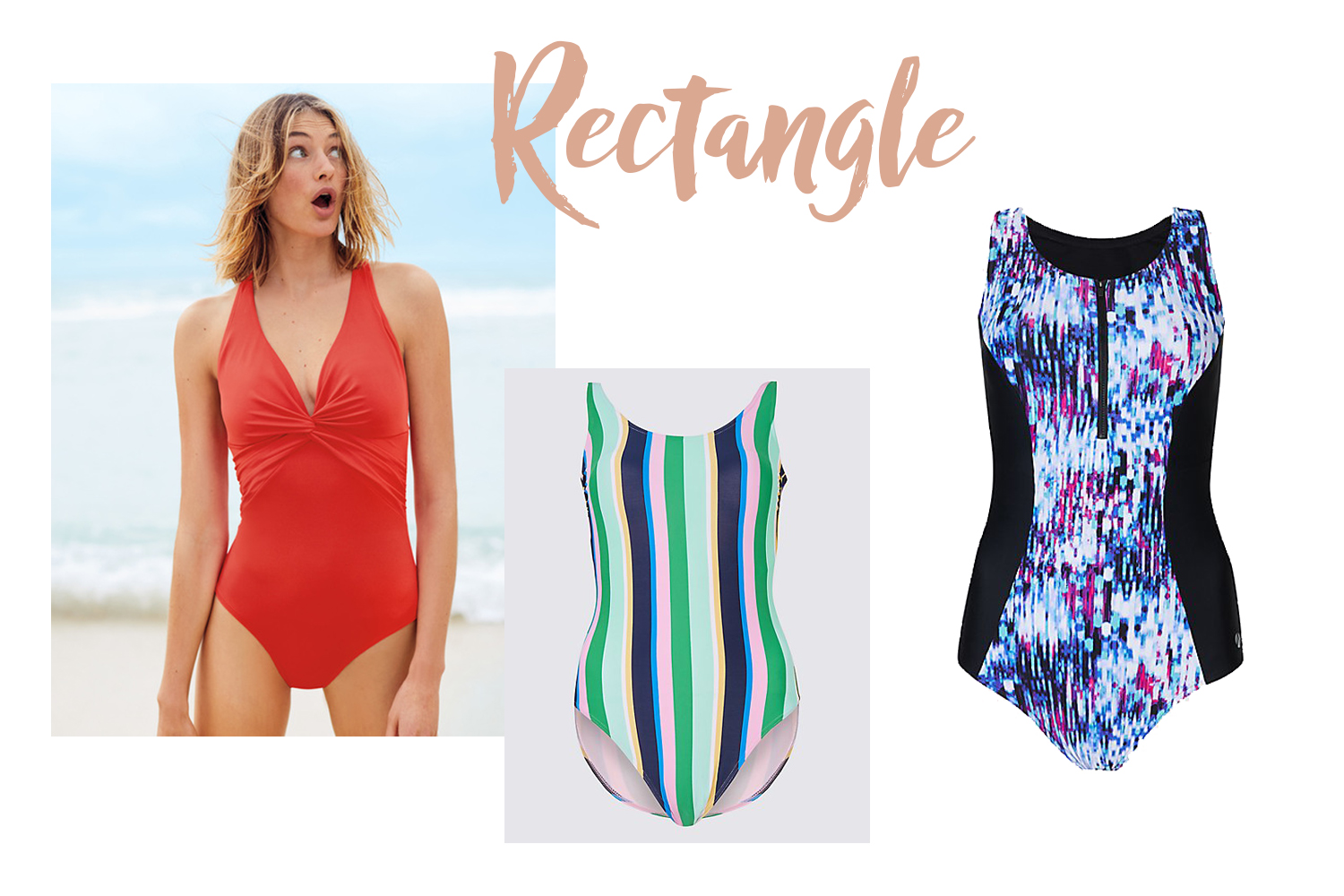 ATHLETICS
Broad shoulders, neat bust and narrow hips make you an athletic body shape. Often thought of as "swimmer shape", you'll be lean and hopefully very confident on the beach! Little triangle bikini tops work well with boy shorts or deep plunge swimsuits. Hip detail and geometric patterns are good for you.
Debenhams J by Jasper Conron shard print halterneck swimsuit, Boden Santorini halterneck stripe swimsuit, Debenhams beach collection black tankini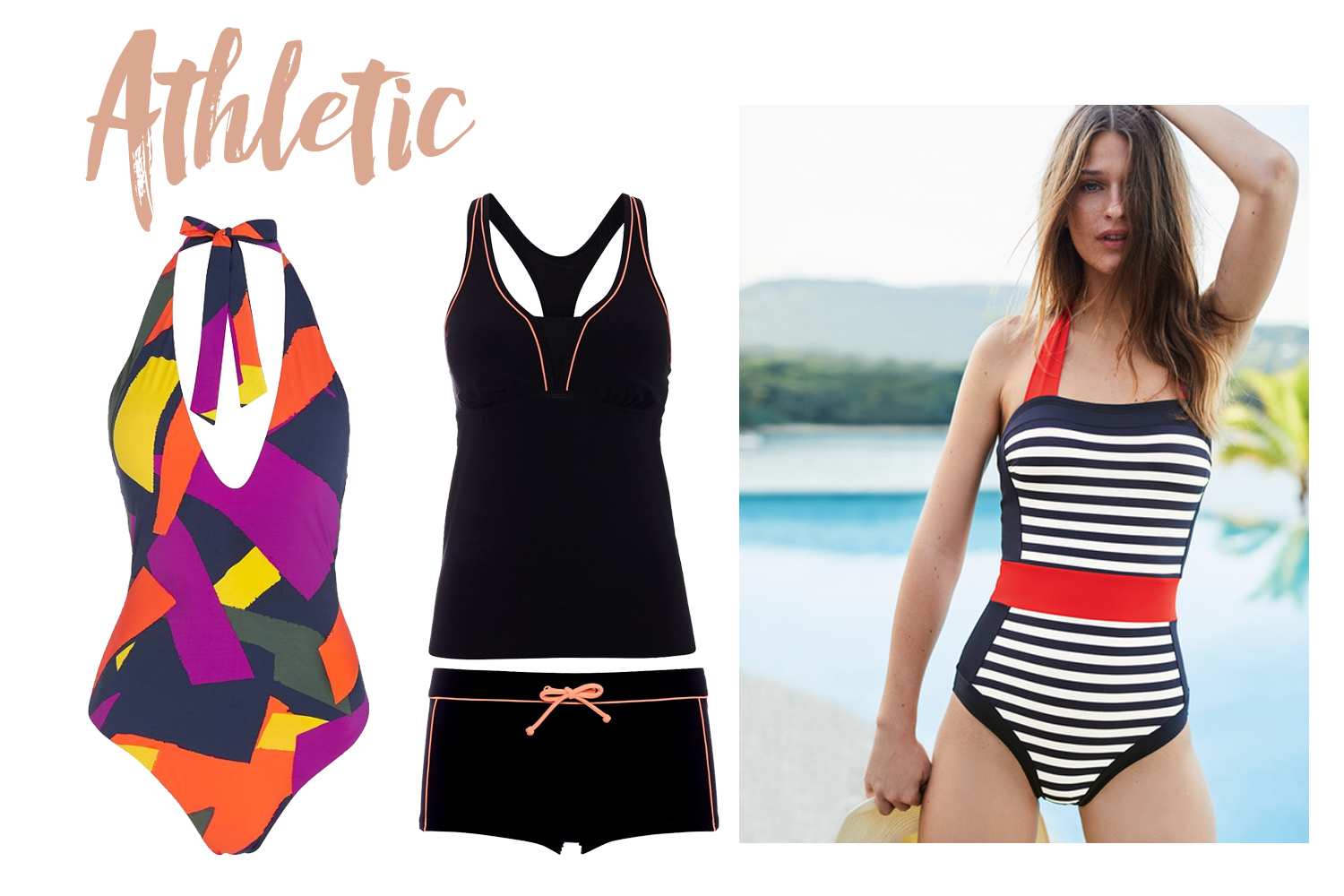 FULL HOURGLASS
You have great curves and a Marilyn Monroe type figure so swimsuits or a bikini will look great and help you celebrate your curves! Make sure you choose something with a cup size and underwired if you need the support. Your curves make a statement so plain or curvy patterns work with minimal fuss or frills. A stripe around the middle will show off your fantastic waist! These are perfect for you:
Bravissimo sundance sweetheart blue bikini by Freya, Bravissimo margarita island bikini, Pour Moi Big Sur bikini,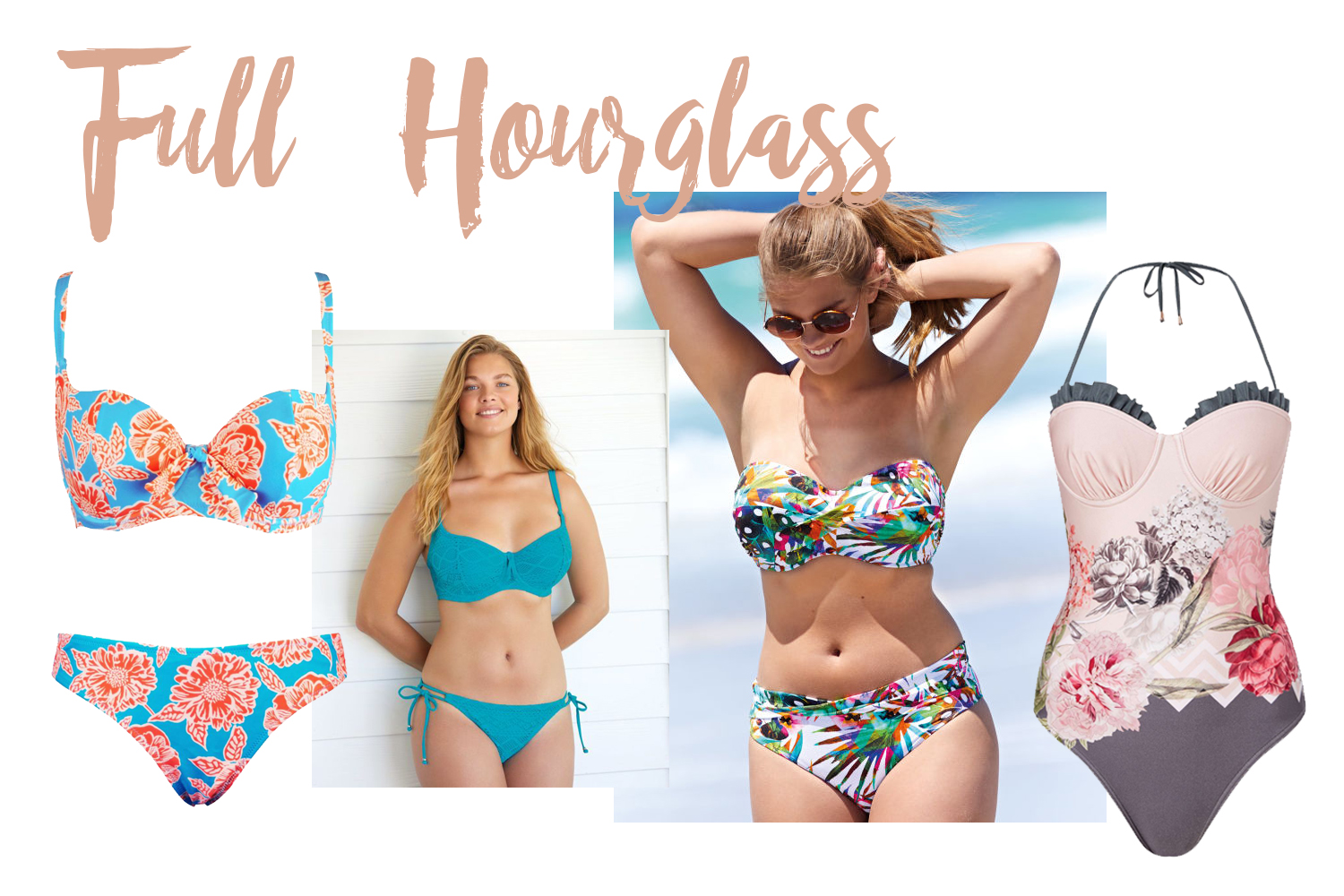 NEAT HOURGLASS
You are considered to be the perfect shape! Your top half is the same size as your bottom half and your curves are neat. Most styles of swimwear will work. Just choose something you love! Here are some that could be difficult for other but will work on you:
Boden Rinella swimsuit, Boden Maddalena green bikini, Monsoon Lily tie bikini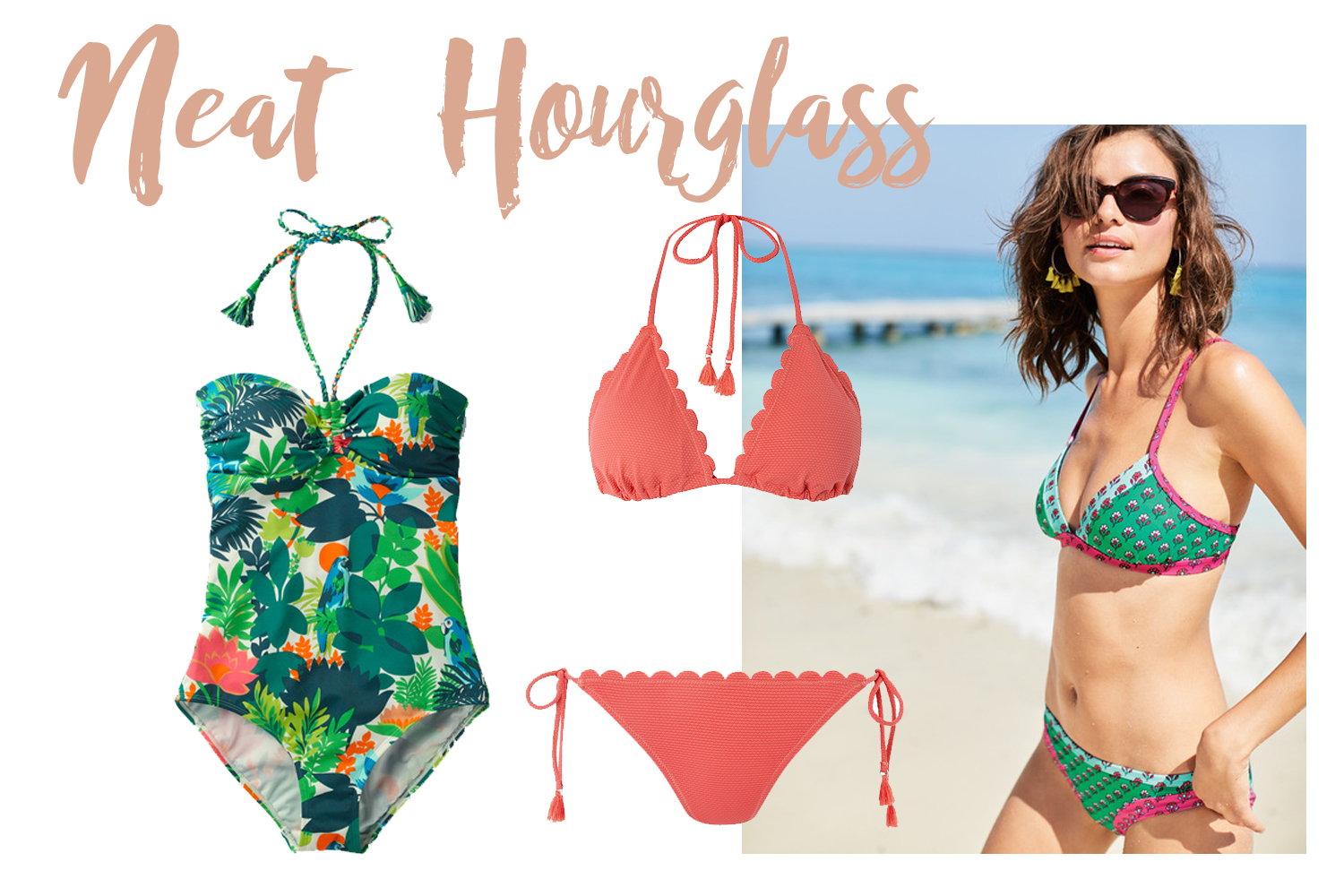 LEAN COLUMN
You'll know you're a lean column if you have very few curves and are very slim. (You may feel "lanky" but it's a great shape to be and many women will envy you!) Add as much detail as possible to bust and hip area to give the illusion of a more curvy figure. A low plunge will work and will show off your slim figure.
Swimwear365 Buffalo white triangle bikini, Debenhams Floozie by frost French fairytale bikini,  Debenhams MW by Matthew Williamson Deia bikini, Debenhams Mantaray floral print tankini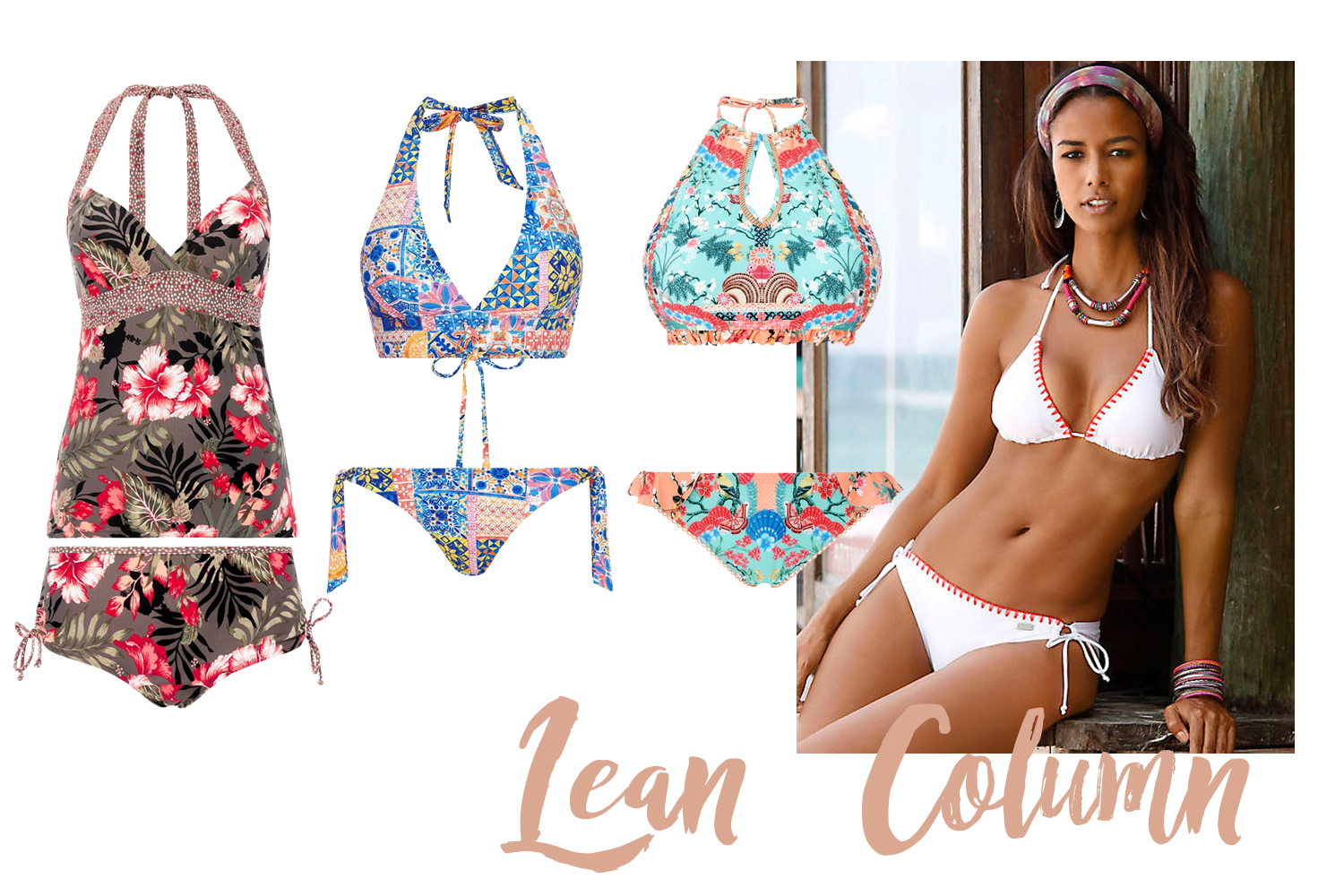 APPLES
You know you're an apple if you have great legs but your problem area is your tummy. So all in one swimsuits or tankinis are best for you. Avoid stripes and halternecks as they'll round you off. Go for curvy patterns as these will disguise any lumps and bumps. The swimwear below is perfect for you and will make you look slim and elegant.
Bravissimo Byron Bay plunge swimsuit, Madeleine navy leaf print swimsuit,  Madeleine green tankini,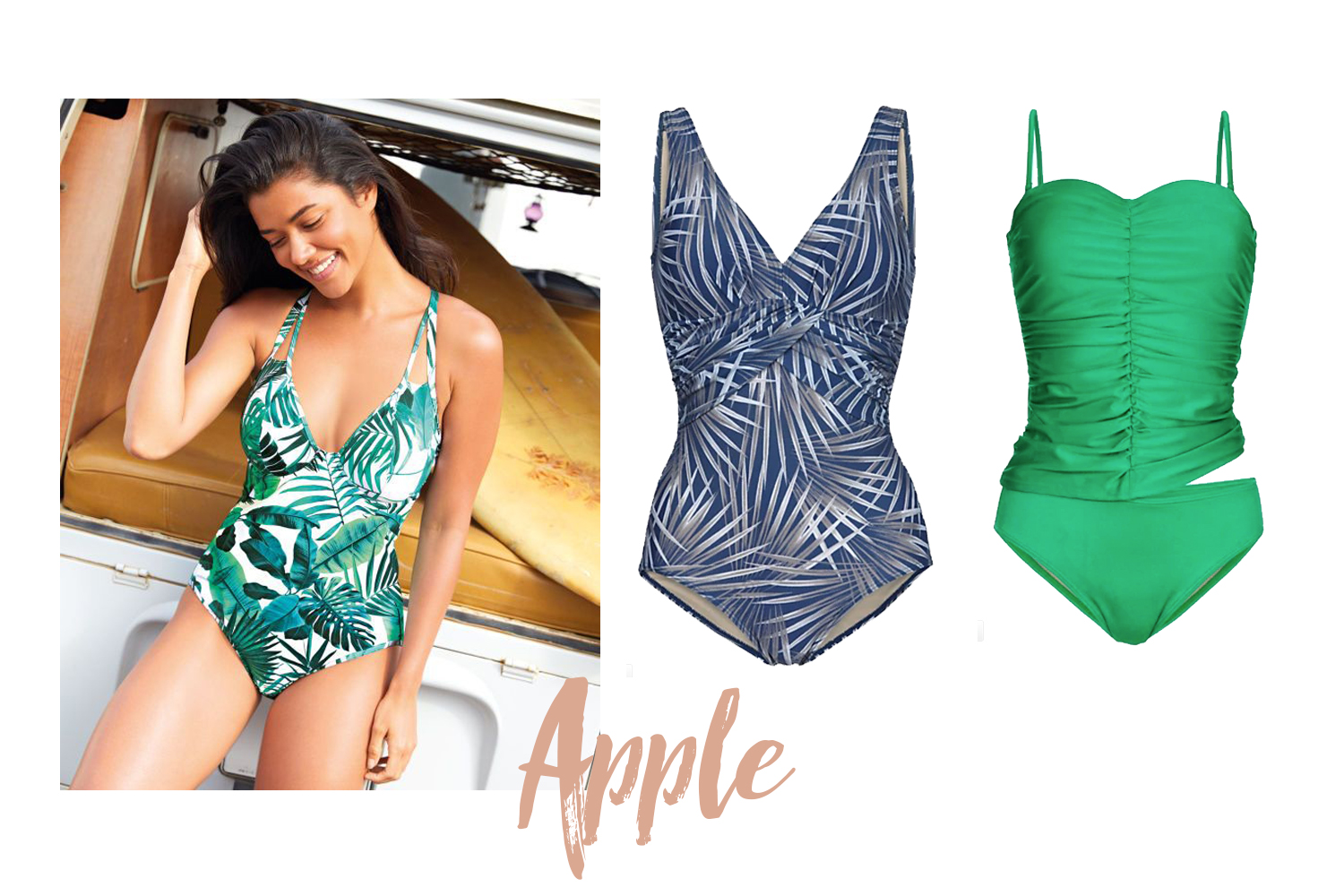 Now we've dealt with swimwear, hopefully this will help you choose and keep you feeling confident on your holidays. Next time we'll look at cover-ups and accessories to help you feel good on the beach or by the pool. 
Still not sure which shape you are? Book a Style Consultation with me!
A Style Consultation will show you how to dress your body in the most flattering shapes all year round!