Ruffles and frills are everywhere this season but do you like them, should you wear them and if so, how?
The romantic style personality (those who love a pretty look) will be most at home in ruffles and will combine with florals and lace. Ruffles can add drama to outfits too so if you like to turn heads, go for a sexy ruffle rather than a pretty version.
1 WHAT TO BEWARE OF WHEN WEARING RUFFLES AND FRILL!
Firstly a caution about sleeves! Large ruffle or frill sleeves look fantastic on the hanger but if you have large hips or an apple shape they will really add bulk to the hip and tummy area and make you look short and dumpy. These sleeves are much better on a taller, straighter body shape.
2 FOR PEAR BODY SHAPES
If your bottom half is bigger than your top, wear your ruffles and frills in pretty blouses and tops. Ruffles and frills on the shoulders and bust line will work really well to balance your proportions and slim your lower body.
3 FOR INVERTED TRIANGLE BODY SHAPES
If your shoulders are wider than your hips, this is you! Wear your ruffles and frill on your bottom half in skirts and dresses to accentuate your hips and balance with your elegant top half.
4 FOR LEAN COLUMN BODY SHAPES
If you have a very slim figure and would like more curves, ruffles and frill are a great tool! You can add then in tops to make your bust look fuller and on skirts to give the illusion of hips.
5 FOR FULL HOURGLASS BODY SHAPES
You already have a curvy body so be careful with ruffles and frill! Keep the fabric soft and floaty. A ruffle or frill around the hemline of a skirt can balance your hips well. A ruffle down the centre of a skirt can also draw the eye inwards and have a slimming effect.
If you love the ruffle trend, have fun this season and be pretty! If you feel like Miss Piggy in frills and can't think of anything worse, don't be tempted to buy on impulse even for a wedding!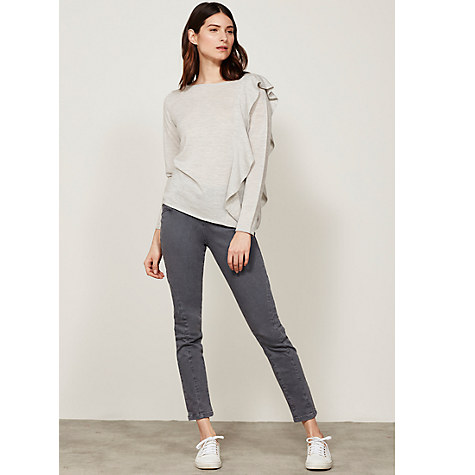 Mint Velvet Grey Ruffle Wool Knit
Want to know how to put together an outfit like a stylist?
For more advice on how to put outfits together that are perfect for you (with ruffles or without), get in touch today and book a style consultation.