In the past few seasons, we've seen some very flamboyant trends:
pattern clash
velvets
florals
frills and ruffles
So for those natural style personality types who like a more casual, functional look, it could have been a struggle to find pieces that work. Often the naturals tells me they love their jeans but are would like to try something else to overcome the boredom of jeans everyday. They've waited patiently and now is their time!
Enter the utility trend! It's casual, practical, comfortable and with pockets a-plenty this is a season the naturals can really enjoy. The earthy colours make it very easy to blend in if you don't like to stand out in the crowd.
But what is there to think about to make sure we wear it well?
Colour
If you're lighter in colouring, go for more of the stones, taupes and beige colours. For those who have more depth in your colouring, the khakis, olives and navy will work better. Should you be more dramatic in style personality and don't like to blend in but want to try the utility trend, you will find some bolder pieces in bright yellows, red and emerald green.
Pockets and belts
A major feature of the utility trend is pockets. Try to make sure that these fall on places that you don't mind looking bigger as they can add bulk. So, for example, if you have straight, neat hips, pockets on the hips can work but if your hips are very curvy, you may want to keep it plainer in this area. If you want to draw attention to your top half, breast pockets are for you.
Many boiler suits and utility dresses are belted and look fabulous if you have a defined waist. If your waist is straighter, make sure the fabric is a bit stiffer and that there are a few pleats/darts below the waist to give the illusion of some waist definition.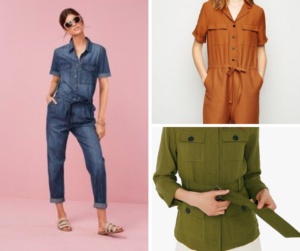 Trousers, skirts, jackets, shirts, boiler suits, dresses, the choice is yours
The utility look comes in every item of clothing so there really is a wide choice. If you don't mind the palaver of getting undressed in the loo, boiler suits and play suits can be really comfortable and save you thinking about what to wear top and bottom but if you don't want to go full on with the utility look, just add a utility shirt or combat trousers to something plainer in your wardrobe. If you really are getting fed up of jeans and trousers and feel like getting your legs out but aren't a girly girl, a utility skirt can be perfect as they're still very casual and can be worn with flat shoes, sandals or trainers.
Dressing it up
What if you aren't a "natural"? You may feel the utility trend is far too plain for you but it can be quite glamorous if dressed up well. Experiment with a pair of heels and some statement jewellery or a patterned scarf.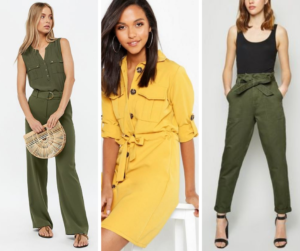 Now what will you choose this season? I'd love to know what utility pieces you've bought and are enjoying. Leave a message in the comments section and let me know if you have any questions.
Need help putting your summer wardrobe together?
I have limited spaces left in June, July and August for style consultations and personal shopping and other services.
Give me a call on 07971 8049840 or email beth@bethpricestyle.co.uk