For the last few months you might have been wondering what to wear to your work Zoom meetings. Should you dress as you normally would in the office or can you afford to be a lot more casual? You might have noticed colleagues who haven't looked great on camera but have you assessed how you look yourself. Here are some considerations that may be useful.
Colour of your top
Choose a blouse or top that is a fairly bright and flattering colour, you don't want to look tired and washed out. Matt fabrics will look better than shiny or sheer ones. Print is fine as long as it's not too small and busy. Make sure your top is not too stiff, tight and structured or it may crease and not be looking good by the end of the day.
Necklines
Be careful with your neckline. No-one wants to see too much cleavage so tops should not be too low but not too high either or you'll look like a floating head! It's good to be able to see your neck and a small amount of décolletage.
Sleeves
Choose a top that has some sleeve even if it's only short when the weather is hot. It will fill you in more and make sure there's not too much flesh on show.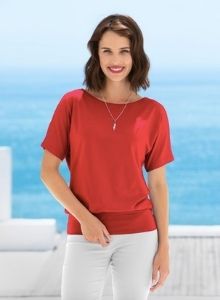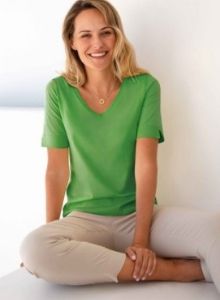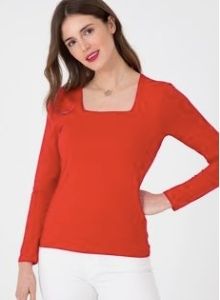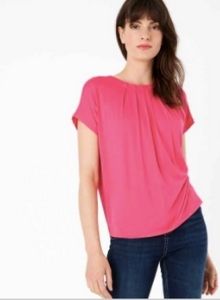 Accessories
A necklace or pair of earrings will add a bit more impact and keep attention on you when you're speaking. Accessories also show attention to detail so are sensible if you need to be making a good impression.
Make-up
You may only be at home but a small amount of make-up will make a big difference on screen. You'll look more alert, fresh and interested if you apply a light foundation and concealer, fill your brows, pop a hint of colour on cheeks and lips and apply some mascara to your lashes. If you're a make-up fan, you can add eyeshadow too but make sure it looks professional and daytime not glittery and over the top.
Background
Try to make sure your background is fairly neutral and office-like. A bookcase is fine especially if laden with work-related books or other subjects that will impress. Remember to remove all titles that may shock!
Lighting
Lighting can make a big difference to how you look. If you have a big window behind you, there will be a lot of glare especially on sunny days. It's better if your window is in front of you to give natural light to your face. For darker days and evenings and if budget allows, a ring light is very handy. Ring lights will give an even look to the face and will be brightening and flattering. The focus is taken away from dark areas and wrinkles!
I hope this list has given you everything you need to know about what to wear for your Zoom meetings and how to look good through the screen. If you've been getting some things wrong, don't beat yourself up, it's all very new to many people but video conferencing (love it or hate it) seems to be here now to stay.
Need more information on getting your colours and style right or for a make-up lesson?
Check out my full range of services and don't hesitate to get in touch by emailing me HERE